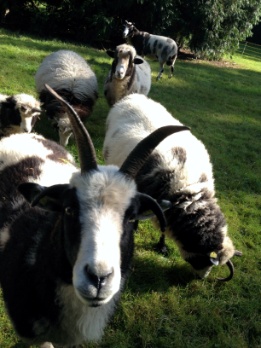 The origin of the Jacob or four-horned breed of sheep is not precisely known. One guess is that it is a Mesopotamian variety, as the sheep have a close genetic relation to sheep currently found in the Middle East.

It took its name, according to legend, when a flock of sheep was divided in the biblical Book of Genesis, which tells the story of Jacob and Laban attempting what is now known as selective breeding. Jacob took every speckled or spotted sheep from his wife's father and bred them, creating a variety that is now known as Jacob Sheep.

The first herds were brought by Spanish and Portuguese immigrants to England and were further bred. Eventually, they made their way to Germany and were kept in Baroque palace gardens as decorative and effective lawn-mowers.

A special feature of this breed are their horns. There are two that jut up, and another pair that curve around the face of the animal. Both sexes of the sheep generally have horns. The horns are hollow and do not grow back if broken or removed. Their distinctive wool is characterized by its white background with brown or black spots. The color of the wool was once very popular, as the natural pigment did not need to be excessively dyed to create a consistent product.

Further, this breed of sheep is not typically fattened as is the practice with other varieties, but instead has a more delicate form. The von Witzleben farm estate introduced the breed to the area in 1970. The animals are kept for decoration and the protection of the species, while also used to control overvegetation. This variety of sheep is a dying breed, and members of our flock have been repeatedly purchased from the estate administration to rejuvenate other flocks.

Lambs are born annually in the spring with an average of 1-2 per ewe or dam. The horns are visible immediately after birth. The lambs are typically weaned from their mother in the first month as their food sources and selection gradually expand. Their diet consists mostly of grass, and in the winter months this is substituted with hay and dry food. Adult animals are shorn every year with the resulting wool being purchased by enthusiasts.

In Germany, as well as throughout Europe, there are a very limited number of Jacob Sheep breeders and we are very proud to cultivate such a historic pedigree of this variety.