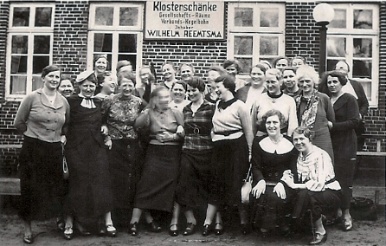 The monastery tavern, or Klosterschänke, is located opposite to the monastery mill on Witzleben Alee. Although a deed dated to April 30, 1306, notes that a brewery was already located at the site during this time, no exact date is known for the construction of the tavern. However, the construction of the basement and walls date the building to sometime in during the middle ages.

Typical of the cloistered life, members of the Cistercian Order of the monastery at Hude dedicated their time to prayer, reading, and the physical labor required to manage a functioning brewery. Because the site is set so far apart from the surrounding major cities of Bremen, Oldenburg, clean water was a scarcity that necessitated the antibacterial properties associated with the brewing process. Since beer is one of the milder distilled beverages, it could be produced reasonably well with the few resources available and was, as one might expect, very popular.

The estate was taken over in 1683 by Kurt Veit von Witzleben and the brewery reappeared around the year 1700 according to inventory documentation. The tavern has maintained a convenient location in the village of Hude for many, many years. Long after the church services at St George's Church (now St. Elisabeth Church) ended, parishioners were still able to barter and make small purchases. The proximity to the monastery ruins brings many visitors to this day, and is supported by the monastery tavern and restaurant.

From 1856 the tavern not only operated alone, but was accompanied by a commercial bakery. In 1987, the Burgdorf family began leasing the restaurant and are now in their second generation of management of the business.