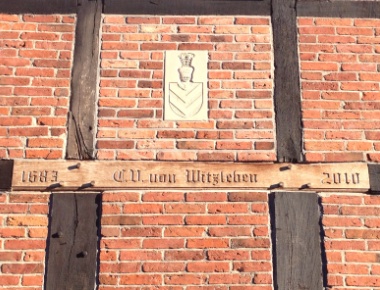 In 2010, another restoration project began at the mill. Pests had infiltrated the 170-year-old oak beams. By means of an innovative process by which hot air was blown through the beams and surrounding structure, this issue was largely eliminated. Further renovation work was coordinated by the Bookholzberg architect Manfred Beier (Angelis & Partner). Among other things, supports for the ramshackle and rotten beams were replaced and improvements to the masonry, insulation, and a modernization of the heating system were made.

The heraldry of the Von Witzleben family was also added to the wall and bridge abutment at the tavern bar as well as the initials of Kurt Veit von Witzleben and the year of his acquisition of Hude in 1683, together with the restoration of the mill in 2010.

All together over €50,000 for the restoration was made available. The owner, Margaretha von Witzleben pledged €15,000 in addition to funds of €10,000 from the county of Oldenburg, and more than €5,000 from the community of Hude. A further €15,000 was donated by the EU LEADER program, all in an effort to preserve this wonderful addition to the monastery ensemble.