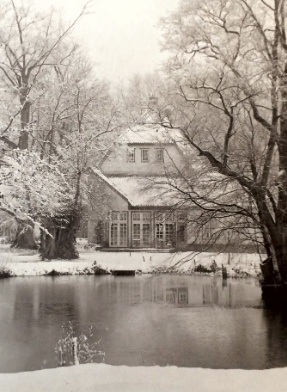 The Manor at Hude is the oldest and best-preserved building of the Cistercian Monastery complex. Its history extends far into the Middle Ages. Dendrochronological (the study of patterns found in wood) studies provide evidence that the roof structure dates from 1332. The house has a rich history. It initially housed the abbot of the Cistercian monastery, hence the common name Abthaus (literally "Abbots House"). At this time, the upper floor would have been connected to a stair tower. Following the closure of the monastery in 1532/1536, no clear ownership could be assigned and the Catholic Church ordered the demolition of the monastery. The Abthaus, however, was spared this fate.

Stewardship of the manor was finally transferred to Anton Günther of Oldenburg (*1653 - †1667), a count in the Imperial Court. Under his direction, the former abbot's house was converted to the count's hunting lodge with the remaining parts of the property becoming a small farm. After the death of Count Anton Günther in 1667, the estates at Oldenburg (Hude) and Delmenhorst were transferred to the Danish royal family as the count had left behind no legitimate heir. Initially, the property was administered from Copenhagen. The Danish interest in the area, though, was solely for the purpose of raising tax revenue from surrounding lands and villages. For this reason, and because the area was left without military protection against the French, many of the surrounding inhabitants left.

In 1674 an inventory of the area was done for the first time. A 12-page description of the assets of the manor was compiled. Several gardens are mentioned, but many of the buildings were left in a poor state due to the chaos of the times and the various occupants of the monastery.

Before the purchase of the property by Kurt Veit von Witzleben of Hude in 1687, the tenant, Hans Hermann Greif, managed the property as a dairy and used its lands for the storage of goods. His grave stone still stands in the Hude Cemetery.

After the period of Hans Hermann Greif's tenancy, Kurt Veit von Witzleben (*1645 – †1719) was appointed as Hunting Master and Forester for the Duchy of Oldenburg and Delmenhorst-Drosten in 1676. In 1687, Kurt Veit von Witzleben became the Lord of Hude and Elmeloh. He advocated for the monastery's preservation and prevented further demolition attempts.