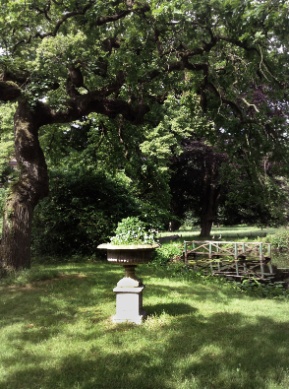 The monastery village of Hude hosts a valuable historical jewel: behind the monastery ruins lies a 12-hectare country park. The park represents a North German example of an English-style country garden, comparable to those at the Lütetsburg or the Oldenburg Castle Parks.

The park belongs to the Von Witzleben family and has been redesigned several times over many decades. Its origins lie in the choice location of the Cistercian monks, who enjoyed the woods' isolation and solitude and found it ideal for the contemplative life of a monastic inhabitant. It is these woods that once provided that solitude which allowed the monks to fully concentrate on their faith.

This seclusion led to a scarcity of water, leading to the site's proximity to several flowing water features. This site is beautifully contrasted between existing river trade routes. Many of the these features have lasted throughout the park's history, including the streams, rivers, forests, and the clay-soil beneath it all, which was beneficial in the production of bricks.

The Cistercian monastery was dissolved and partially demolished in the middle of the 16th century during the Protestant Reformation. Thereafter, the Oldenburg dynasty used the area for hunting and social purposes. In 1687 Kurt Veit von Witzleben campaigned for the Danish King Christian V to relinquish the decaying remains of the monastery complex, which over time helped develop the park. The Von Witzleben family was able to not only stop the progressive decline of the monastery ruins, but also spearheaded a movement in northern Germany to help restore the area.

More recently, much of the terrain has been lost to progressive urbanization, mostly via roads and railway construction, and as an effect the size of the park has decreased drastically over time. Following the Second World War, the area was used to house refugees and migrants.