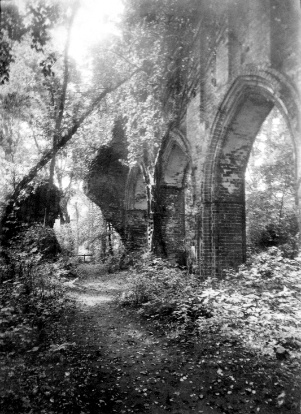 The monastery at Hude was founded in the 13th Century by the Count of Oldenburg, and served the monks of the Cistercian Order until its destruction 300 years later. The remains of the buildings were restored by the House of Oldenburg.

Count Anton I of Oldenburg built a large hunting lodge around the beloved Abbacy, and the former Gate Chapel of the monastery was remodeled as the current Hude Parish Church.

After the death of Count Anton Gunter (*1583 – †1667), his estate was transferred to the Danish royal house, as there was no legitimate heir to be named. Christian V, king of Denmark and Norway (*1646 – †1699) bestowed the estates upon Kurt Veit von Witzleben (*1645 – †1719) as administrator and later holder of a perpetual lease, leaving Kurt Veit as presumptive Lord of Hude and Elmeloh. The decision to leave Kurt Veit in charge prevented further degradation of the buildings and surrounding area, and also prevented local farmers from using the property as a quarry. He built the first buildings of this type resulting in the creation of the Gutspark.

By preventing further demolition of the monastery, an extraordinary and outstanding example of northern German Gothic brick architecture was successfully preserved.
Related link:
http://www.klosterhude.de